A motto that I believe in or try to live by is that when life gives you lemons, "Make Lemon Meringue Pie."
When life gave me lemons, I published my first cookbook, The Cooking Queen Opens Her Kitchen. I have since published my second cookbook, Life is Delicious.
Since mango season is upon us, I thought I would begin my first column with "The Mangos In Our Backyard."
Mangos are a juicy stone fruit from many species of tropical trees. Florida's mango season extends from May through October. Not only are mangos delicious to eat, but in addition, they are a rich source of Vitamin A and Vitamin E.
Here are two of my favorite recipes each with a mango "twist."
Sassy Salsa Chicken with Mango Salsa Sauce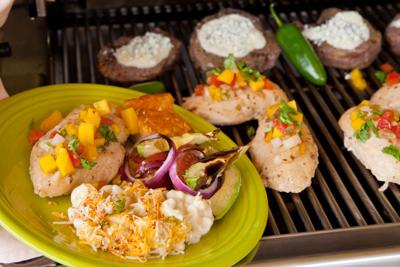 4 to 6 boneless, skinless chicken breasts
1/2 cup lite olive oil
1/2 cup fresh lemon juice
1 teaspoon lite salt
1 teaspoon white pepper
2 teaspoons fresh scallions or onion powder
1/2 teaspoon thyme
1 clove garlic, crushed or diced
1/2 teaspoon paprika
Marinate overnight and grill
Mango Salsa
1 ripe mango, peeled and cut into 1/4 inch dice
1/4 cup fresh cilantro, minced
1/2 sweet onion, finely diced
1 small red pepper, diced
1/2 Jalapeno, seeded and finely minced
3 tablespoons vegetable oil
Juice of 1 lime
1/2 teaspoon salt
1/2 teaspoon ground cumin
1/2 teaspoon cayenne pepper
Mix and allow several hours for flavors to blend. Spoon over grilled chicken breast.
Queen's Tip - Use fresh herbs whenever possible.
Warm Mango Bread Pudding with Fresh Whipped Cream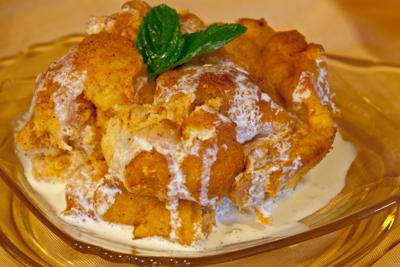 1 cup heavy cream
3/4 cup finely diced mango
1/2 cup whole milk
1/2 cup white sugar
2 large eggs, plus 1 egg yolk
1/4 teaspoon salt
1/2 teaspoon ground cinnamon
1/4 teaspoon ground ginger
5 cups French breach, crust cut off and cubed
3/4 stick unsalted butter, melted
Whisk together cream, mangos, milk, sugar, eggs, yolk, salt and spices in bowl. Toss bread cubes with butter in another bowl, add mango and toss to coat. Transfer to a lightly greased 8-inch square baking dish and bake at 350 degrees until custard is set, 35 to 40 minutes. Serves 6.