Growing up with our family we always enjoyed fresh from the garden, fruits and vegetables. With strawberries plentiful, here in South Dade, we wanted to share a few more recipes of this luscious fruit. Using the freshest ingredients provides the opportunity to serve healthy and tasty dishes to your family and guest.   So, get your strawberries on!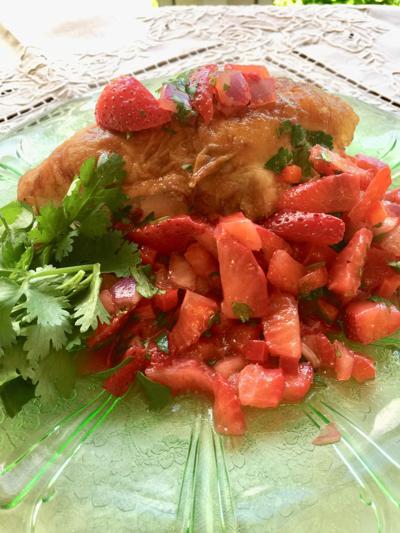 Strawberry Salsa Grilled Chicken
4 to 6 boneless, skinless chicken breasts
½ cup lite olive oil
½ cup fresh lemon juice
1 teaspoon lite salt
1 teaspoon white pepper
½ teaspoon thyme
1 clove garlic, crushed or diced
½ teaspoon paprika
Marinate chicken overnight and grill.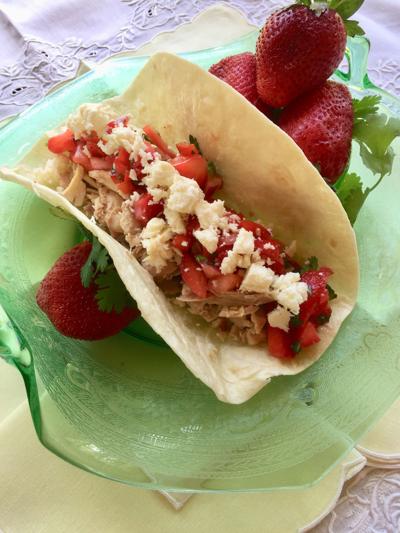 Strawberry Salsa
2 cups fresh strawberries diced
¼ cup fresh cilantro, minced
½ cup purple onion, finely diced
1 small red pepper, diced
¼ Jalapeno pepper, seeded and finely minced (optional)
1 tablespoons olive oil
1 tablespoon white balsamic vinegar
Juice of 1 lime
½ teaspoon salt
Mix and allow several hours for flavors to blend. Spoon over grilled chicken breast. This can be served over a soft-shell taco that has the grilled chicken cut into bite size pieces and sprinkled with queso blanco cheese.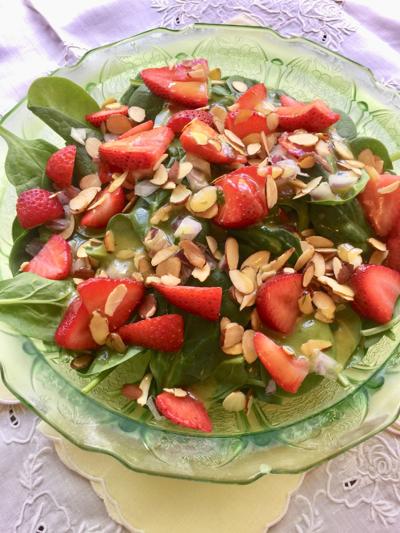 Strawberry Spinach Salad
1 cup sliced, toasted almonds
6 cups baby spinach
1 cup crumbled blue cheese
1 pint fresh strawberries, sliced
1 small purple onion, sliced
Toast almonds at 300 degrees on a baking sheet for 10 to 15 minutes or until browned. In a bowl toss almonds, spinach, blue cheese, strawberries, and onions. Add vinaigrette to taste and toss again. Serves 6
White Balsamic Vinaigrette
1/3 cup white balsamic vinegar
2/3 cup light olive oil
2 teaspoons yellow grainy mustard
3 tablespoons honey
1 shallot, finely chopped or 2 green scallions finely chopped
Process all ingredients in a processor and chill.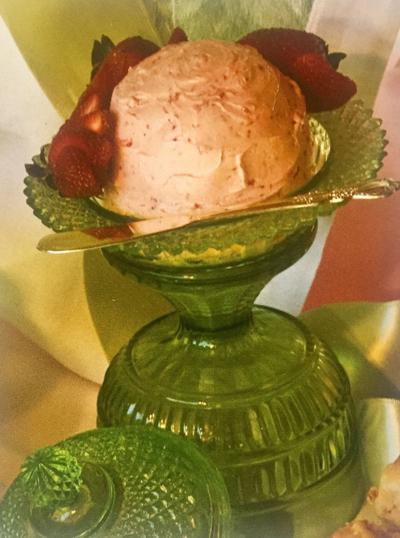 Strawberry Butter
10 ounces frozen or fresh strawberries, mashed
1 cup unsalted butter, softened
1 cup powdered sugar
Combine all ingredients and whip until smooth. Chill. This can be put on toast, bagels, croissants, pound cake or anything you desire.
Queen's Tip: Stop and Smell the Strawberries! Considered a member of the rose family they give off a sweet fragrance as they grow on bushes.